Light Reading: Loren Sears
LIGHT READING: Loren Sears
London Light Reading
Wednesday 20 June 2007, at 7pm
Light Reading Series 7
LOREN SEARS
American film and video artist
Loren Sears
will show and discuss a selection of his early work, including the Haight-Ashbury Quartet, at Light Reading on June 20th at 7pm.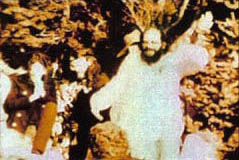 Be-In (Loren Sears, 1967)
Each of the four films in the quartet, which dates from 1967 to 1971, is a personal documentary that uses superimposition and complex (home made) optical printing to portray private and communal life in San Francisco's hippie centre. They include footage of the legendary
Gathering of the Tribes
in Golden Gate Park, Allen Ginsberg, Timothy Leary, the Grateful Dead and the Diggers. On the fortieth anniversary of the 'Summer of Love', Sears made new digital transfers of the films and presented them at the Cannes Film Festival and market earlier this year.
Loren Sears began making film in 1965 and was a founding member of
Canyon Cinema
(which remains one of the oldest surviving film co-operatives) and manager of Canyon Cinematheque in San Francisco; an innovator in film and video technology; artist-in-residence at KQED-TV in San Francisco; and helped to build the production departments for both the Public Cable Access Center and KLSR-TV in Eugene, Oregon.
As one of the first West Coast artists to begin using video in the late 1960s, Sears was cited by Gene Youngblood, in his seminal book "
Expanded Cinema
", as one of the foremost innovators in the field for the psychedelic video mixes he created at
KQED
's centre for experimental television. Between 1972-74, Sears lived and travelled across the USA in a van outfitted for video production, shooting personal journals and initiating community video projects. At Light Reading, he will also screen The Pacific Lake, Tribal Vision as an example of his work from this period.
Light Reading is an on-going series of critical dialogues that engage artists, writers and curators in conversation around a selected artist's body of work. To be included on the mailing list for future events, please contact
courses@nowhere-lab.org
at
Light Reading
3rd Floor, 316–318 Bethnal Green Road, London, E2 0AG
Nearest Tube / Train: Bethnal Green
MAP OF AREA
Tickets: £5 door / £4 advance
Telephone: 020 7372 3925
Email:
courses@nowhere-lab.org
Booking is essential for this event, as places are limited.
www.nowhere-lab.org
...
LOREN SEARS
Light Reading, Wednesday 20 June 2007
Haight-Ashbury Quartet
For history and art's sake I want to keep these four pieces before the public. They recount personal but widely shared experiences of the late '60s – from street and communal life of Haight-Ashbury to romance and family in deep country. Each is a documentary and a song of the times, people and places they record – so-called "tribal home movies" – ancient and eternal.
A technical note: The last two films explore the techniques of editing and composing within the camera. I had burned out on the demanding optical printing techniques of my previous films and wished for art to be easier. Following Brakhage (and others) I began layering multiple exposures in the camera – imagining one layer to be a base line, another punctuating melody, and another subtle harmony or counterpoint. When I had run the film through the camera three times, it was done. Matting the lens with the left hand provided vignettes and protected other areas of the frame from exposure.
Be-In
Loren Sears, 1967, 16mm on DVD, colour, sound, 6 mins
A credible re-creation of the event, as you might have experienced if you were there – the original, the great Gathering of the Tribes for a Human Be-In, Golden Gate Park, January 14, 1967. Optically re-worked film and sound are energetically woven together in a tapestry of the day.
Tribal Home Movie #2
Loren Sears, 1967, 16mm on DVD, colour, silent, 7 mins
An intimate flipside of Be-In visits homes, parks and 'offices' of the neighbourhood, tearing out discrete images of daily life and assembling them into montage episodes – like a sequence of haiku poems. Featured are the Grateful Dead at home, Oracle office, Diggers' Free Food in the Park and Free Frame of Reference, and many friends. Be-In, performed on my homemade optical printer. Too visually intricate for sound – this one's all for your eyes.
Connie Joy
Loren Sears, 1971, 16mm on DVD, colour, sound, 3 mins
This is a love poem, pure and simple. I awoke the morning of our first romance, took up the camera and composed this picture. I'm still astounded at how beautifully and precisely the instant was captured. Exposed in several layers, without editing of any sort – it came out of the camera this way ! A rhythmic sound loop from Bob Dylan's "New Morning" ices the cake.
Sevin Goes to School
Loren Sears, 1971, 16mm on DVD, colour, silent, 3 mins
Connie's son's first day of school, we awoke to a crisp September morning in a tipi overlooking a sheep ranch in Northern California. The multiple layers here are folded back on themselves so the beginning, middle and end of the story run concurrently.
+
Day/Year - The Pacific Lake, Tribal Vision
Loren Sears, 1973, video on DVD, black and white, sound, 25 mins
An edited composition from Tribal Vision Journals, summer 1972 – from Bolinas,CA to Blain, WA. A poem edited around four story lines which climax near the end. It follows the cyclic pattern of a day, morning to evening – across the entire subculture – with birth and awakening as the outcome. It is about inventing new culture.
www.nowhere-lab.org